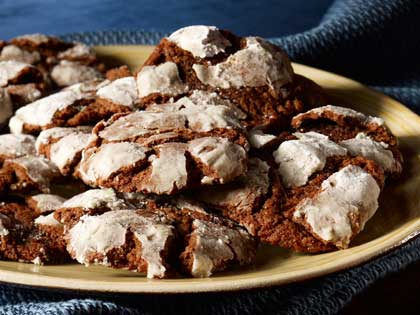 Also known as crackles, this is a chewy gooey favorite for fall that also makes a memorable gift.
Servings: 3 dozen
Ingredients:
5 oz bittersweet chopped
3/4 cup + 2 Tablespoons all-purpose flour
1/2 tsp baking soda
1/2 cup (1 stick) unsalted butter room temp
1/2 granulated sugar
1/2 cup packed dark brown sugar
1 large egg
 1 1/2 tsp pure vanilla extract
1/2 cup confectioners' sugar
Instructions:
Preheat oven to 375 degrees Farenheit with the oven racks positioned in the upper third of the oven.
Using a Silpat baking mats, place the mats in your cookie sheets. Using a Silpat  allows for even baking and you don't have to deal with rolling parchment paper not staying in place!
1. Melt the chocolate in a heatproof bowl on top of a saucepan, whisking until smooth and set aside.
2. Whist together the flour, baking soda, and salt in a small bowl.
3. In a large bowl, beat the butter with an electric mixer until light and fluffy.
4. Add the granulated sugar and brown sugar and beat until smooth
5. Add the melted chocolate and beat until blended
6. Add the egg and vanilla and beat until well blended
7. Reduce the speed to low and add your dry ingredients in 1/3rds until well blended
8. Cover the bowl and refrigerate 2 hours until firm or overnight.
9. Place the confectioners' sugar in a small bowl. Let the bowl thaw for 15 minutes, then spoon out and form 1 " balls and coat with the confectioners' sugar.
10. Place 2 inches apart on the Silpat.
11. Bake for 8 minutes, or until the tops spring back when lightly touched.
12. Cool the cookies on the baking sheets for just a couple of minutes. Then remove and place cookie racks to cool completely.
 Note: Store the cookies by placing them in layers separated by wax paper squares in Tupperware or a decorative cookie tin used for gifts at room temperature.