We take pride in delivering our beautiful and delicious gourmet desserts and cakes safely to your door
Based in Dallas, TX, we offer free cake delivery in Dallas and surrounding suburbs Monday – Friday. We ship seasonally

I couldn't believe my eyes. I was giving a dinner party and your wonderful cakes were delivered beautifully intact in a pretty box and perfectly chilled, even in the Summer! The individual containers used inside the box preserved the presentation. Absolutely beautiful! And the taste? My guests still haven't stopped talking about it and it's been a month!

– Alexandra R. Dallas, TX
Whether you are ordering our delectable mini cakes for a private dinner party or a larger special event or occasion, you want to leave a lasting impression on your guests eyes and palates. And you can't do that, if your cakes are not delivered to you in perfect condition.
We have have gone to extreme lengths to develop the perfect shipping packaging to ensure that your cakes are delivered to your door fresh, chilled and in beautiful condition. Our special packaging carefully protects each mini cake. And because our items are perishable, in the Summer, we only ship UPS or Fedex Overnight.
Local Delivery Packaging:
Our Gourmet cakes are in special packaging to protect each cake individually. For gifts, we include a gift card that is attached with a ribbon on the handle of the packaging detailed below.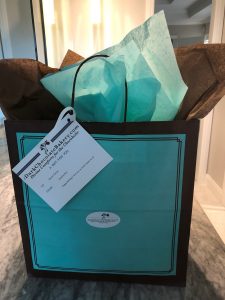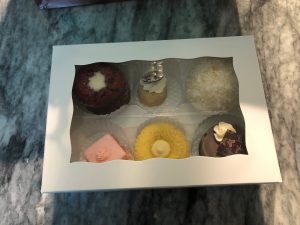 DELIVERY OPTIONS:
Dallas and surrounding suburbs delivery only must be Monday-Friday.  Please choose the day from the calendar carefully at checkout.
** You can also place your cake order in advance of a birthday, anniversary or holiday gifts and corporate gifts for the next coming year!
Once you receive your package, please take the time to read the serving and chilling instructions. We also recommend wine pairings as well.
Enjoy!
Shipped Packaging:
We only ship November-December for the holiday season. We carefully wrap each cake to insure freshness and prevent damage. Each cake is placed in an interior cardboard box and then placed in a larger cardboard box surrounded by styrofoam. We ship with dry ice, when cakes require it.