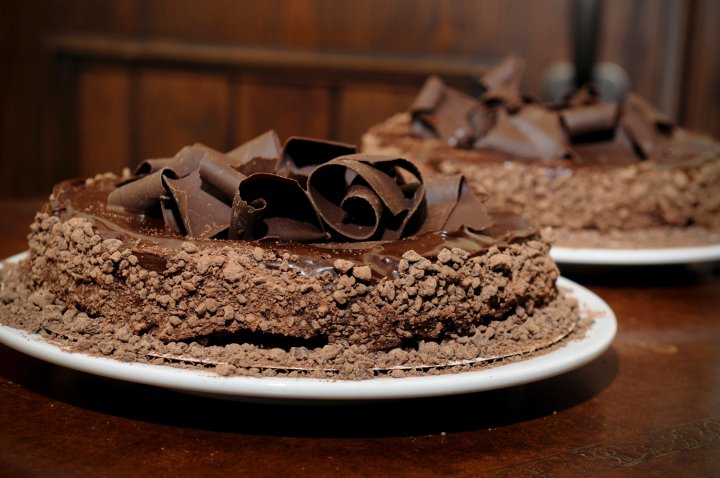 SIGNATURE TRUFFLE CAKE RECIPE
The ultimate rustic moist French Chocolate Cake!
Preheat Oven to 350°F
Preparation Time: 25 minutes
Cooking Time: 40 Minutes
Refrigeration Time: 3 hours
Cake Ingredients:
9 OZ of 70% Scharffenberger Baking Chocolate
9 OZ of Granulated Sugar
9 OZ of Sweetened Butter
6 Eggs separated
Butter for 10" round cake pan or use Wilton Cake Release found at Michaels
1. Add one 1 – 2 inches of water to a double boiler (bain-marie) and allow the water to stay below the boiling point. Add chocolate and butter and allow to melt, gently stirring until smooth. Let cool.
2. In a large bowl combine eggs yolks with the sugar and carefully fold in the chocolate mixture.
3. Beat the eggs whites until firm and gently fold into chocolate mixture. (please note: be careful as to not introduce air while stirring, because it will make the batter too fluffy)
4. Pour batter into 10" round pan and bake for 40 minutes
5. Take cake out of oven and allow to cool. Don't worry if it caves in the middle. That's what you want!!!!!
Ganache Frosting:
9 OZ of 70% Scharffenberger chopped
1 Cup of Heavy Cream
1. Place heavy cream in a small sauce pan over medium heat. Bring just to a boil. Watch carefully so it doesn't boil over or burn! Remove pan from burner and add chocolate and whisk until smooth.
2. Allow to cool just slightly before pouring over the cake. You want to start in the middle and just allow it to barely drip over the sides.
3. Garnish with sifted cocoa powder, if desired.
THIS IS QUITE A CONVERSATION PIECE! ENJOY!!!