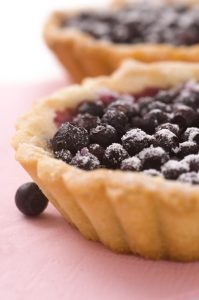 Dark chocolate and blueberries are a great dessert pairing. When used in a tart recipe along with your favorite porter beer, the end result is a decadent sweet treat with a lot to offer. Fruit desserts with chocolate work so well because fruit and chocolate balance and complement each other. Deep complex flavors enhanced with fruit is the secret to a good tart recipe. With Labor Day weekend coming up, why not celebrate with a batch of dark chocolate blueberry tarts? Here's how to make these mini chocolate and fruit desserts.
Ingredients
Serves 6-8
You will need: Mini tart pans
The crust:
• 2 1/2 cups unbleached flour
• ¼ cup water, chilled
• 2 sticks of butter, chilled and diced
• 2 egg yolks
• 2 tablespoons granulated sugar
• Nonstick cooking spray
The filling:
• 12 oz. dark chocolate, chopped
• ¾ cup heavy cream
• ¼ cup porter beer
• ½ stick of butter
• 2 tablespoons granulated sugar
• Pinch of salt
• Fresh blueberries, for garnish
Directions
Make the dough 2-3 hours in advance.
1. Add flour, butter and sugar into a food processor. Process until crumbly.
2. Whisk egg yolks with the ice water in a medium bowl.
3. Run the food processor as you slowly add the egg and water mix.
4. Transfer the dough to a piece of plastic wrap, form into a ball, wrap and refrigerate for 2-3 hours.
5. Pour beer and heavy cream into a saucepan.
6. Heat over medium low. 
7. Bring to a low simmer.
8. Add chopped chocolate and butter into a heat safe bowl.
9. Pour the heavy cream and porter mix over the dark chocolate and butter.
10. Allow the hot liquid to melt the butter and chocolate for a few minutes before adding the sugar and salt.
11. Whisk and set aside.
12. Preheat oven to 350 degrees F.
13. Coat tart pans with cooking spray.
14. Press about 2 tablespoons of dough into each mini pan (be sure to press up the sides as well).
15. Use a knife to remove excess dough and bake for 12-15 minutes or until golden.
16. Cool and turn out the tart shells.
17. Fill each shell with the tart filling, arrange fresh blueberries on top and chill for 3-4 hours to set.
18. Serve.
This tart recipe is extremely simple and very delicious. These dark chocolate and fruit desserts are ultra-decadent and the addition of porter beer elevates them to new heights. Serve these at a party and everyone will be asking for the recipe.