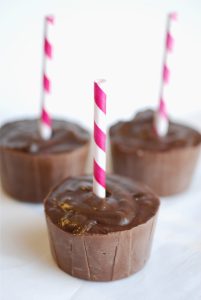 Dark chocolate is an awesome dessert ingredient because it's sweet and chocolatey but also really healthy. Dark chocolate is loaded with nutrients including fiber, magnesium, zinc, iron and antioxidants. Because of its nutrition value, dark chocolate is an excellent ingredient to use in healthy desserts for kids. There is no reason why dessert shouldn't be healthy. One healthy dark chocolate dessert that kids will love are dark chocolate and roasted banana smoothie pops. These pops will take the place of their favorite frozen treats and give parents the opportunity to sneak in a few other nutritious ingredients including flax seed. After whipping up a batch of smoothies, pour the liquid into paper cups, insert sticks, freeze and voila, you have smoothie pops! Check out the foolproof recipe below.
Ingredients
Yields 6-8 pops
What you need: 3 oz. paper cups and popsicle sticks
• 5 bananas
• 6 cups almond milk
• ½ cup dark chocolate chips
• 1/3 cup creamy peanut butter
• ¼ cup flax seed meal or ground flax seed
• 2 tablespoons brown sugar
• 2 tablespoons dark chocolate cocoa powder
• Pinch of salt
Directions
1. Preheat oven to 350 degrees F.
2. Line a baking sheet with foil or parchment.
3. Peel bananas and place onto the baking sheet.
4. Sprinkle with brown sugar and a pinch of salt.
5. Roast for 25-30 minutes or until they develop color and the sugar caramelizes.
6. Remove from the oven and allow to cool.
7. Place all ingredients into the blender. Make sure to pour in the liquids first.
8. Blend until smooth.
9. Pour into paper cups.
10. Insert sticks.
11. Freeze overnight.
12. Remove the paper cups.
13. Serve.
Taking the time to roast the bananas transforms a smoothie into healthy desserts for kids. The rich caramelized taste of the roasted bananas with the dark chocolate and peanut butter complement each other so well and create dessert pops that are packed with flavor. Although they have some complexity, these dark chocolate treats will appeal to any child's palate. Aside from being delicious, this dessert is a great way to get kids in the kitchen. You can invite them in to help make the pops. They can sprinkle the sugar on the bananas, pour the liquid into the cups and taste the ingredients. It is a fun activity to do after school or over the weekend. This recipe is a casual, easy, breezy and fun way to make healthy desserts for kids minus the effort.